This week our Sensational Shopping Guide continues with a trip to Husbands (yes in Paris). Founded by Mr. Nicolas Gabard in 2011, Husbands offers traditional English tailored clothing in British cloth to the Parisian gentleman. This may seem somewhat of a juxtaposition and a discourse between the distinctive taste for flair of many Parisian tailors and the structured and staid suits of the British, but offered in the artistic manner it is, it seems to work quite well. Unfortunately, Mr. Gabard was unavailable for a detailed interview as we caught him on his way to Premiere Vision, the largest textile and fabric tradeshow on the market, which is always a busy time for any tailored garment retailer.
Husbands features a small collection of tailored suits in a variety of single and double-breasted, two and three pieces. English mills JJ Hardy, Hields and Fox Brothers are the particular choice of cloth and for good reason. The collection features classic hallmarks with fully canvassed jackets, horn buttons and high-waisted trousers in muted patterns and silhouettes that eschew the trend of snug and slim and opt for form-fitting instead.
Husbands offers a navy flannel chalk stripe three-piece suit with traditional hacking pockets and a clean trouser with no belt loops or back pockets. Three double-breasted models follow, all solid 6x2 with straight flapped pockets and a tapered trouser. The two button suits take on a bit more flair with slanted hacking pockets and an extra ticket pocket in the same solid color offerings. Rounding out the suiting collection is what Husbands calls the "pop suit" in a full canvassed one button peak lapel with low-cut trousers and patch pockets . Both formal and casual at once with peak lapels and patch pockets, but with a single button stance more often seen in formal and evening wear. This suit is designed for the young in heart and mind.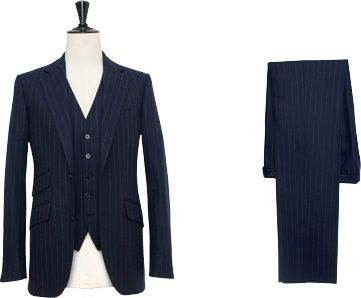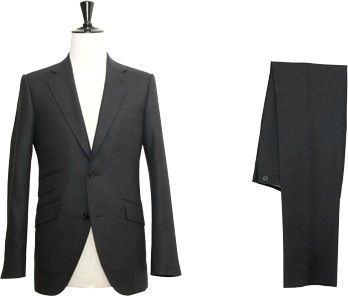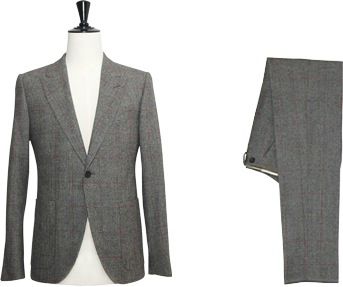 Husbands shirts are offered in poplin cottons in solids and a Bengal stripe for business and French chambray for play. Thomas Mason fabrics, semi lined and semi spread collars and mother of pearl buttons are the standard. Personal we prefer an unfused collar for the ease of wear and a bit of savior faire, but Husbands offerings are more than suitable.
High shine Chelsea boots offered in black with stacked heel and single inside zipper, built on Italian Blake construction combine the best of all three style universes ; British inspiration, Italian construction and French retail into one. A small collection of silk knit neckties and a hand knit wool scarf complete the online offerings from Husbands.
Although somewhat under the radar and built upon classic offerings that don't scream "look at me, I'm wearing a suit", Husbands has been able to catch our eye. With a combination of artistic expression and a sense of ease without knowing much of the background of the brand, Husbands is a place to get to know. Check them out online or in their brick and mortar location.
Boutique 8 rue Manuel 75009
Paris,France
husbands-paris.comcontact@husbands-paris.com